Luma
Luma is southern Europe's largest lock manufacturer. If you see a moped in Spain, you'll probably also see a Luma lock. Luma's locks are homologated in accordance with the Swedish Theft Protection Association.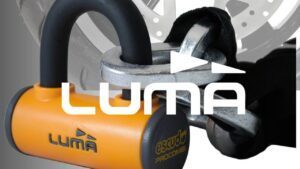 Robust design, approved and tested, high quality characterize Luma's locks, which are available in a number of different variants depending on the area of ​​use. Luma has locks for motorbikes, mopeds, ATVs, UTVs, snowmobiles, boats, etc.
Examples of products from Luma: lock, padlock, code lock, brake lock, chain, chain lock, lock cable shackle, double lock system, chain lock, wall bracket, floor anchor, reminder cable, bracket, etc.
Luma has products for: MC, ATV, UTV, moped, scooter, jet ski, snowmobile, boat, etc.
Can't find what you're looking for? Contact Us!
Luma official website: https://en.luma.es/